Students perform in District Choir Festival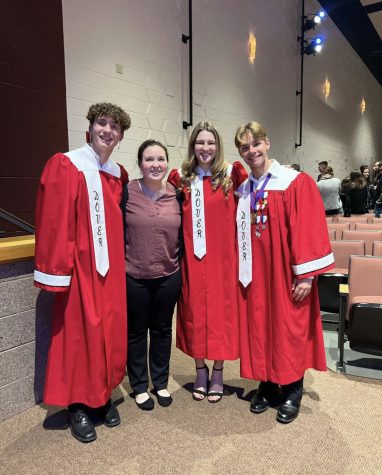 On January 14, three students represented Dover by participating in the PMEA District 7 Choir Festival at Solanco High School. Senior Jensen Glatfelter, unfortunately, did not advance to Region Choir, but seniors Kylie Snelbaker and Bobby Repp did.
About the audition process, Glatfelter said, "The process wasn't too hard to prepare for, but the auditions were somewhat tedious." They had two pieces of music to learn and were told what measure of the song to sing.
Glatfelter said, "Then from there we had our audition, for that we were given a number at random and would go into one room and sing the song with a backtrack and then leave and go to another room and sing the a Cappella." There were three judges in each room. They were all turned about to eliminate bias. 
Snelbaker feels she did well in her audition. "I felt like I did fairly well! I was nervous that the people who had auditioned before me did much better. However, once we performed in the concert, I was confident in my place." After being involved in the concert, Snelbaker felt more comfortable and was elated in her surroundings with people who love music just as much as she does.
Glatfelter enjoyed the experience of the auditions for many reasons. "I greatly enjoyed the experience. I met so many people and built so many friendships, everyone there was very nice, and the food given to us was amazing." For Gladfelter, this is a good experience for his first time auditioning since he hadn't thought about auditioning until this year.
After the success she had with the District and Region choir, Snelbaker is going to audition for All-State Choir. "I can't wait to perform with the Region Choir, although I am a little nervous about trying out for the next step, All-State Choir."