The buzz about the Hive
For Dover residents, The Hive Coffee House offers everything from coffee to smoothies, and soups to sandwiches, and is located at 3665 Bull Rd, York, PA.
You simply can't go to a coffee house without ordering coffee, so we ordered a vanilla latte, a double espresso, and a double mocha. We also tried the watermelon smoothie. The vanilla latte had decadent flavors and a perfect balance between the coffee and vanilla. The double espresso was quite strong, and perfect for hardcore caffeine junkies. The double mocha was a simple, delicious frosted treat. The watermelon smoothie provided a refreshing spring taste to our meal as well.
Ordering food proved to be more of a challenge than expected because everything sounded amazing! The Southwest Cobb Salad was a colorful experience, visually and flavor wise. The Hive Classic Club offered a familiar yet enjoyable taste and did not disappoint. The Turkey Stinger sandwich was, "a rustic sandwich: hearty whole wheat toast toasted to golden brown, which retained the bread's chewiness and gave the crust a nice snap as well; encasing slices of lean turkey breast, a fried egg and cheddar cheese. The name 'stinger' comes from the spicy cilantro sauce," commented my guest, Dover resident David Williar.
Aside from the extensive menu, the atmosphere of the restaurant was warm and inviting. After ordering, customers are given a table marker and can take a seat at one of the inside lounge areas or the traditional tables on the patio. This establishment does not fail to offer something for everyone, even those who do not enjoy coffee. The service was impeccable; we received our food and drinks not ten minutes after we sat down.
The Hive Coffee House is an incredibly respectable place, and I plan to make many visits there in the future.
About the Writer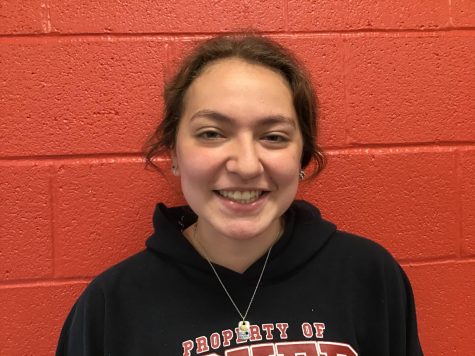 Savannah Williar, Staff Writer
Freshman Savannah Williar is in her first year writing for the Dover Dispatch. Williar plays post for the school basketball team and hopes to manage the...