Thrifting comes to the high school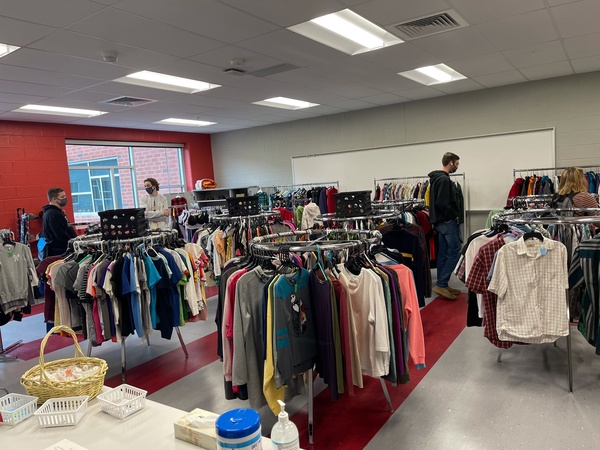 Dover's Closet is a school run thrift store that opened on March 22, 2021. The idea for Dover's Closet came along after agriculture teacher Britney Marsh wanted to donate clothes for students at the high school. The store was created to attract newer students since thrifting has become popular. Dover's Closest is run by Marsh, school social worker Kirsten Johnson, business teacher Loni Kress and Bobbi Aspey. Student workers include those who joined through their management and leadership class as well as other volunteers.
It is hoped that Dover's Closet will continue to be a Dover tradition for years to come. Junior Ryan Steinheimer, who helps with the store, says, "With the correct people in the driver's seat, I think Dover's Closet could very well grow into something much bigger than simply serving high school students. In fact, the plan is to expand the store out to all community members of Dover itself." Dover's Closet is all about togetherness and giving to those in need. 
Everything found in the store is completely donated by community members in Dover. Steinheimer also says, "To much of our surprise, Dover's Closet is actually a hot spot during free MMA days. We thought it would have taken much longer for it to take off, but there is either a packed store or a line out the door!"
The store is open to everyone and is completely free. If interested in Dover's Closet, be sure to visit between 7:30 to 7:45 a.m. every morning, 10:45 to 11:15 a.m. on Tuesday, Thursday, and Friday and 2:25 to 3:15 pm after school.