Transgender student-athletes can compete
Sophomore Bleu Bellot grew up as an outgoing, funny, and unique individual who later came out as transgender. Bellot always wanted to become an athlete but was too afraid of the comments people would make. The PIAA accepts transgender athletes, but Bellot was unsure how that would be received.
Doctors gave Bellot the label of transgender. She always knew she was different. "I didn't decide to be transgender. It's not something I woke up and was like I'm going to be transgender. I've always known I was in the wrong body at a young age. I went to therapy and doctor appointments," said Bellot. "(They) decided to tell me that I indeed was transgender. I decided to come out yes, but to decide to be transgender, no."
Dover Area High school's athletic trainer, Dave App explained that the PIAA allows transgenders to play interscholastic sports. In the PIAA handbook it simply states,"Where a student's gender is questioned or uncertain the decision of the Principal as to the students' gender will be accepted by PIAA." This is the only sentence that the PIAA handbook provides due to the fact that they haven't had any serious problems with having transgender athletes. "Within maybe 10 years there will be a bigger policy on this topic," said App. Dover has had a transgender play boys' lacrosse, but it never caused any problems with PIAA. 
One issue that would need clarification would be locker room use. "At our school we don't have a policy about which locker room they would go to yet, but if you're a girl, then go to the girls locker room. At Dover, we are politically right, and transgender is still a taboo subject. But, I feel as though we would set up a bathroom that they would go to, but I'm not actually sure," App said. 
Even though Dover Area High School accepts transgender athletes, Bellot said, "I feel that if I were to join a sport and win, they would use me being transgender as a conflict, mainly in the sense where they'd say that I have more muscle and I'm stronger than a biological girl…There would be no conflict, only if I won." App strongly agreed with this considering it wouldn't bother people until the transgender girl would win. Despite these concerns, Bellot has decided to compete as a jumper for the school's track team. 
About the Writer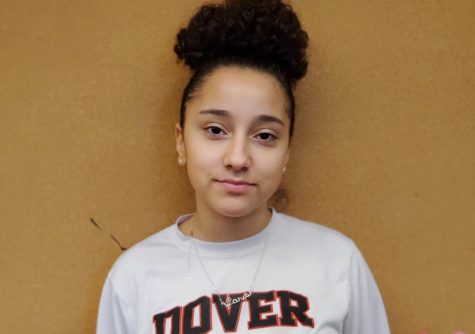 Paris Dugan, Staff Writer
Paris Dugan, a sophomore, is a hard working, new addition to the Dover Dispatch staff. She enjoys playing basketball in her free time and being with her...